Proof presents artist David Moyle
Opened at Proof Bar and Lounge On Wednesday January 16, 2013
What was supposed to last only one month WAS EXTENDED for 3 and a half months.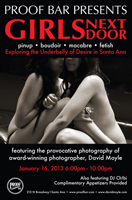 Proof proudly presents the provocative work of photographer David Moyle. This collection of limited edition work will open at the Santa Ana venue on Wednesday January 16, 2013, from 6:00 PM until 10:00 PM. The exhibition will run through Thursday, February 28, 2013.
In Girls next Door, photographer David Moyle explores the underbelly of desire with paraphiliatic tenderness. Utilizing various genres of photography, from pin-up and boudoir to macabre and fetish, Moyle coaxes out another side of the Downtown Santa Ana Arts District—one where fantasy and reality merge. In this series, all of Moyle's models were hand picked from within the Santa Ana community, as were the locales of his shoots.
By providing a contextual location to his work, in this case that of the same milieu of the exhibition, Moyle forces the viewer into the role of an active voyeur. The images are not merely a photographic exploration of subject and context, but because the images are taken from within the bar/gallery and surrounding vicinity, and the subjects are inhabitants from within the Downtown area, the photographs become a sort of time-capsule of some golden hedonistic heyday while at the same time taming any overt lechery on the viewer's part into some sort of misplaced nostalgia or at least a more sublime fantasy.
Featured in the Kinsey Institute Erotic Art Show and currently included in the annual special edition of B&W Magazine's Single Image Award issue, Southern California artist David Moyle's oeuvre of macabre and erotic works have been exhibited in galleries Nationally and throughout Orange County. His phantasmagorical images evoke a dreamlike of light and something darker than shadow. For more information, please visit www.davidmoyle.com/
Proof Bar
Proof is a hybrid venue blending a sleek lounge and bar with a provocative, contemporary art gallery. Open weekdays 4pm-2am & weekends 8pm-2am, Proof Bar also hosts nightly entertainment and a weekday Happy Hour from 4pm-9pm. Reservations accepted for parties of 10 or more. Located in the center of the Downtown Santa Ana Arts District at 215 North Broadway, Santa Ana, CA 92701, Proof Bar is strictly 21+ and valid identification is required to enter. Please visit proofbar.com for more information or email inquiries to info@proofbar.com.
Google+