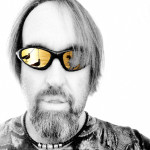 20 years. That's how long I've been following my passion for digital arts. It's been a long and winding road, beginning with my reading the entire time life book series on photography as a child (ya, I was "that kid") to exploring different areas of art like color theory, art history, and figure drawing…eventually leading to a Bachelor Degree in Marketing. I know what you're thinking: wait, what? But stay with me; it all comes full circle.
I immediately dove back into school to study graphic design and web development, knowing full well at that point that the end goal was to build my own business. Naturally there were some corporate gigs along the way because, hey, a guy's gotta make a living. But after earning my stripes, I eventually launched a successful branding company, which I ran for several years before going full freelance; basically, the full monty for an artist.
In the years since then, my work has been displayed in galleries throughout the competitive SoCal market, featured in respected publications such as the Orange County Register (and many other publications ), and awarded by the Kinsey Institute, B&W Magazine, and OC Weekly. The bigger honor is the recognition I receive from my clients, whether they be local models and creative entrepreneurs, or high-profile names like Tasting Panel Magazine, Boyd Coddington Hotrods, and Glen Ivy Hot Springs and Day Spa. After two decades of working with a variety of eclectic styles, I love that my clients continue to challenge me to push the boundaries of art and design with them. And even after years of professional work in photography, graphic design, and web development under my belt, I still prefer just to think of myself as an artist helping other creatives bring their visions to life.
So, what's your next project or concept? Let's talk.
---
David currently lives in Brea, CA, and also does graphic design work and web development for select clients.
You can contact him by phone @ 714-272-2284
or e-mail him @ david@davidmoyle.com
For more ways to find his work, please visit his contact page.
---
David Moyle's Training
Photography
David Moyle began his photography training as a child by reading the entire time life book series on photography. As silly as this may sound to some, it was an in-depth series of books on how cameras work, film, development, light, etc; and gave him the basis of understanding of the process.
David studied photography and film development and lighting principles at Fullerton College in 1995
He was trained in proper scanning, color correction, photo retouching and proper processing for various print methods in 1996-1998.
He was employed as a color correction and photo retouching specialist with the Pacific Bell Yellow Pages from 1997-1999.
Marketing
David Moyle received his bachelor's degree in marketing from California State University, Sacramento in 1993.
In 1994 David was awarded first place for his Market Research thesis on the use of female nudity in advertising in women's fashion magazines studying the effectiveness of such photography on advertising products to women.
David ran branding company Identity Crisis from 2005 – 2008.
Web Development
David Moyle studied web development at New Horizons in Anaheim from 2000 to 2002 where he learned web programming and best practices in web development earning him a certification in web development.
Studied digital animation and graphic design for internet at Fullerton College from 1996 – 1998.
Employed as an in-house web site developer and Flash animator for Earle M Jorgensen from 199 – 2001.
Graphic Design
David Moyle studied graphic design for print at Fullerton College from 1996 – 1998.
Studied art, figure drawing, and painting at Fullerton College from 1995 – 1998
Studied art, art history, color theory and drawing at Orange Coast College from 1989 – 1991
Employed at various companies as a graphic designer and art director from 1995 – 2001